A clear definition of goals is the initial step to building a long-term strategy. The marketing objective is derived from the sales aims. It contributes to the company's success. The marketing aim also ensures a consistent brand positioning.
What is B2B Marketing? Definition, Examples, Templates
B2B marketing refers to all of the traditional and digital marketing techniques a business uses to make their potential customers — other businesses — more aware of their offering and more engaged with their brand.
For a B2B marketing team, knowing the pain points and motivators of their target audience is crucial for a successful campaign. Every single B2B marketing strategy relies on the team's ability to authentically and tactfully speak to the heart of what their prospects really need.
This task comes with a unique set of challenges, though. Unlike B2C marketing, where salespeople can safely rely on emotional drivers to move individual prospects through the sales funnel, B2B marketers need to speak to businesses' primary drivers: financial sense and ROI.
B2B marketing and sales teams typically work with teams of stakeholders for each of their target accounts. Because of this, they usually need to deploy a number of marketing strategies and campaigns simultaneously to ensure they're meeting the needs of each of the many buyer personas involved in the decision-making process.
In short, the objective of B2B marketing is to enable other businesses to become more aware of your brand, highlight the value of your product, and convert high-quality prospects into loyal and long-term customers.
B2B Marketing Definition
"B2B Marketing or Business-to-Business Marketing are the strategies and processes involved in marketing and distributing a product or service to another company or organization, happening in a B2B market."
The Evolution of B2B Marketing
B2B Marketing is a modern term. It is a development from Industrial Marketing. Marketing of industrialized companies. As the name implies, marketing between companies started during the industrial revolution in the 18 th century. The oldest content marketing example is from 1985. John Deere, the American manufacturing company, published "The Furrow," a customer magazine. Sounds interesting? Here's the rest of the story.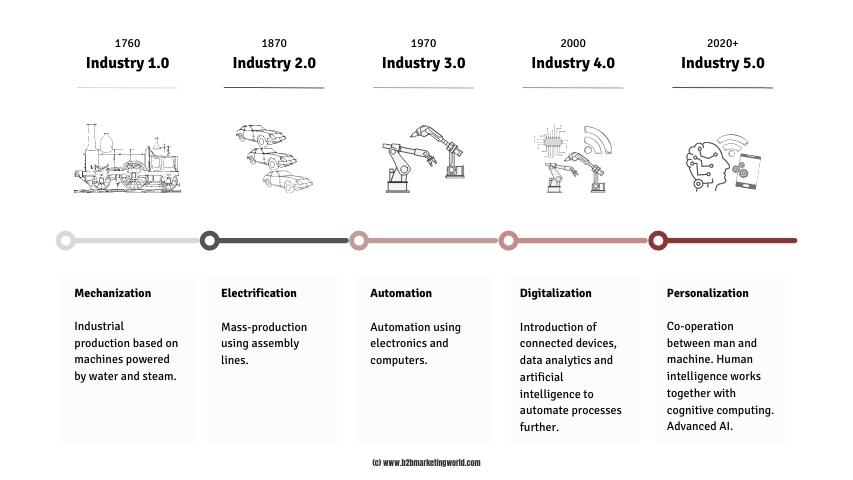 Like the industrial market has developed, B2B Marketing subsequently developed too. Today's modern Business Marketing is more automated and yet personalized than ever. MarTech (Marketing + Tech) tools experience exponential growth. And B2B Marketers become the lifeline of your company.
Developing your B2B brand strategy: Methods & examples from some of the top brands
1. Transparency
"It's more work to be transparent, because you're sharing the data, the numbers, and you've got to explain the context. One of the things I love about transparency is it forces us to do that." —Joel Gascoigne, CEO of Buffer
As a brand development strategy, transparency may be trendy, but open and honest communication with employees and a commitment to providing more opportunities to underrepresented groups will never go out of style.
2. Cause & Purpose Association
3. Being the Underdog
Ahead of a major campaign launch, Salesforce CEO Marc Benioff hired actors to pose as protesters at a conference for Siebel. The protesters descended on San Francisco's Moscone Center with the rallying cry "The internet is really neat! Software is obsolete!"
"This marketing stunt worked across many fronts: we built Salesforce.com morale, got great press coverage, and brought our competitor's customers to our event to hear our message. Within two weeks, more than 100,000 organizations signed up for our service; most were introduced to it through articles about the launch. Later, our End of Software campaign was recognized by PR Week as the 'Hi-Tech Campaign of the Year.'" —Marc Benioff, CEO of Salesforce
The company couldn't fight Microsoft in a battle of resources (see 800.27 trillion with a "T" market cap), but Slack's role as the king of communication meant they weren't afraid to offer some tips for success to the competitor infringing on its turf.
4. Employee Empowerment
One of the best examples of employee empowerment as a B2B marketing strategy was the video campaign the live chat company Drift ran on LinkedIn in 2018—a campaign that was planned only five days before it was launched, yet generated 3 million views and resulted in the highest single-day traffic in the company's history.
Dave Gerhardt (Former VP of marketing at Drift) had been running some engagement experiments using LinkedIn video, which was a fairly recent addition to the platform, and found his videos getting thousands of views and a ton of engagement. People he did not know would recognize him as "that guy from the LinkedIn videos."
"She's literally skiing and … she's talking about how, you know, 'Modern email is broken. We built an email marketing platform that actually matches how people want to buy…' and she's literally skiing down the mountain. That was when just all hell broke loose, because at that point, then once people saw it, it turned into a competition here internally where everyone started to one up each other." —Dave Gerhardt, VP of Marketing at Drift
5. Launch Free Tools
Creating helpful tools and releasing them for free is a fantastic way to help your customers solve their problems and build up brand affinity. And one of the best in the industry at doing exactly that is HubSpot.
They've created and launched dozens of free tools over the years. The current tally is at 45 different tools available for download—with everything from buyer personas to invoice templates making the cut:
Visitors type in their email address and the URL of their website, and the Website Grader will measure the site's marketing effectiveness, generating a score between 0 and 100 based on factors including traffic, SEO and social media. Based on its findings, the grader will also suggest ways to improve inbound marketing efforts.
Having new stuff to play with online is always cool, but the reason that offering free tools is a great brand development strategy is that it's all about empowering the customer to do things they wouldn't be able to on their own.
Creating a lead generation strategy: What works & what do you need?
Chances are your B2B marketing strategy that's in the works as you read this post is connected to increasing revenue in some fashion. More customers, better retention, higher quality pipeline—all of these goals have one thing in common: Revenue.
And as you're working backward from that primary business goal, the almost unavoidable step you'll hit is lead generation. You need to find reliable methods and tactics that you can use to generate leads on a consistent basis.
1. Downloadable Assets
And just like that, you now have the contact information of someone who's expressed interest in something you offer. And once you have that information, you can start to reach out (manually or with an automated email sequence).
2. Hosting Webinars
However, companies are starting to recognize that webinars are more than just great tools for interacting with and helping to educate current customers—they can also be used to increase customer lifetime value, reduce churn, convert trial users and, yes, even generate leads.
While Intercom may talk a lot about the features of their platforms, their public-facing webinars are intended to be as valuable as possible, and that's what will lead people to poke around their websites and sign up for trial accounts.
They run weekly webinars on CrowdCast that just explore the hundreds of ways people use Notion. They're not *selling* Notion on the webinar—the goal is to show how awesome the product can be, introduce plenty of great ways to get value from it and let the rest take care of itself.
Intercom also allows their trial users to attend product-specific webinars. As a result, trial users learn more about what the platform is capable of and how they might use it better, and have added incentive to become paid users.
3. B2B Review Sites
A successful content marketing strategy where SEO is a major part is going to lead to long-term success when executed well, but the other search-related tactic you can start executing right away is Google Ads.
The value of Google Ads is that they will put your company on page 1 for a relevant Google Search. Yet over the last five years, the cost-per-acquisition (CPA) for a Google Ad campaign within most industries has steadily increased. So, many companies use social media ads to build trust and familiarity which can result in a more successful Google Ads campaign. But, Google Ads are definitely something worth testing at the very least.
5. Paid Social Advertising
With social ads, your customers are not actively looking for you. In fact, all they're looking to do most of the time is figure out what their friends, family, colleagues and favourite celebs are up to.
If you want to just open up Facebook and launch a campaign to target certain interests or demographics, the audience you're targeting is going to be quite cold. They probably don't know you, and they're probably going to be hesitant to give you their information or swipe their credit card right away—if they even stop scrolling and give you the time of day.
Then, as the pixels collect more and more information, you can launch social ad campaigns that target people who've already taken specific actions that indicate they might be interested in what you're offering.
Sources:
https://www.yesware.com/blog/b2b-marketing/
https://www.b2bmarketingworld.com/definition/what-is-b2b-marketing/
https://foundationinc.co/lab/b2b-marketing-strategies