7 Tips and Tools to Create Perfect Social Media Posts
Many social media marketers manage and share social media posts across multiple social platforms. However, social media marketing is NO "one size fits all".There are 3.7 billion people worldwide who are actively using social media. They are using it for personal relationships and entertainment, for work and research, and business communication. For corporate communications strategy, social media has grown from a "nice to have" to a "must-have" discipline.But, the world of social media is fast and highly diversified. Social platforms and technologies are developing at breakneck speed. New social networks arise while other loose members and significance. You don't need to jump on every bandwagon to reach out to your targets. However, it is wise not to capitalize on just one social platform for promoting your brand.
For corporate communication, social media marketing has grown from a "nice-to-have" to a "must-have" discipline, and social media skills are no longer considered as a "niche competence".With the growing number of marketing channels, cross-media marketing has become another task for most social media workers. However, each social network has particular features and a specific community. Things that work fine on Twitter might be ignored on Facebook, and vice versa. Business contacts in LinkedIn might need to be addressed in a different way to Twitter or Instagram followers. So, blowing out the same content in the same way across multiple social channels, might not be a good idea.Don't get me wrong. If you have something to share that concerns and benefits all your social communities, you can cross-post your content on all networks and across all your communities. However, to successfully cross-promote your content and messages, don't just blatantly copy and paste the same link, image, and comment in exactly the same way. Here are:
7 tips to create perfect social media posts & tools that help you get your work done in no time
1. Tailor your social media posts for each network
Each social network offers different options for presenting your content. Social platforms not only differ in the number of characters, image formats and sizes they provide for your posts. Also, communities engage differently with content and post formats. The better you know your audience and know the way they are engaging on each social platform, the better you can address them.Tailor the message for your posts to fit each social media platform and audience:
Adapt your comment to the number of characters allowed on each platform. Take a look at the number of characters displayed in the preview to make your meaning come through.
Make sure your images correspond to the images sizes the networks provide. Consider adapting your images to create specific images for Pinterest and Instagram to make sure your message will be presented in the best way to fit these platforms.
Share your posts to your social media profiles and pages with different comments for your message that will hit the language use of the respective community and focusses on their topics and interests.
Share your posts on different days and at different times of the days. Networks and communities have specific rush hours for traffic and engagement.
You can also share your post in relevant groups and communities on Facebook and LinkedIn but share them on different days and times and use different messages tailored to each group and audience. Make sure to follow the community rules of each group and only share content that will benefit the audience of the respective group.
2. Content is still king
Don't post everything everywhere. Only share quality content that will benefit the audience of the respective social platform. Capitalize on content that converts best for each of your communities:
Tools to help you to find top-performing content for your social media posts:
3. Create multiple visuals for your content
Visual content is more likely to get shares, likes, and comments than pure text messages. Content with relevant images gets 94 % more views than content without relevant images. Visuals will increase click-through-rates (CTR) about 47 %. Infographics grow 12 % more traffic, and 200% more shares than posts without images.
Create multiple visuals for your content, such as photos, images, infographics, gifs, and videos. Capitalize on all your visuals to share, reshare and repurpose your content. For instance, if you share content that contains more than one image, share all your images – one at a time – to repurpose your content. This will extend the lifetime of your content and allows you to reshare your content without repeating yourself.
Tools to help to create visuals for your social media posts:
4. Use hashtags in your social media posts
Hashtags have become essential parameters for linking your posts with current discussions (trending hashtags) or turning your social media posts into searchable content. However, hashtags don't work equally well on all social networks. They work well for Twitter and Instagram, but they perform less on LinkedIn and Facebook. Also, the character and number of hashtags work differently per network.For instance, Tweets using more than two hashtags see a significant drop in engagement. Whereas on Instagram, the more hashtags you use, the more engagement you see.
Tools to help you find the right hashtags for your posts and communities
5. Harness the power of emojis for your social media posts
There are currently 2,666 emojis in the Unicode Standard. In fact, emoji-based marketing messages have increased by 775% year-over-year. Emojis not only work for private conversation but can also be used for corporate communication to connect with your audiences. Emojis provide a global storytelling language and the can support brand building if applied correctly. Emojis in a Facebook post can lead to 57% more likes, 33% more comments, and 33% more shares.
Tools to help you harness Emoji power for your social media posts:
6. Choose the right post format for your social media posts
Examples of great social media posts
1. The Cheesecake Factory: Use humor and great photos
The Cheesecake Factory is an American chain of restaurants, localized around the world. If you're not familiar with it, you may recognize the name from the hit series The Big Bang Theory. They have a large following on Facebook and regularly post about food that's on their menu. These posts get a lot of engagement, due to the great images used and the funny text accompanying them.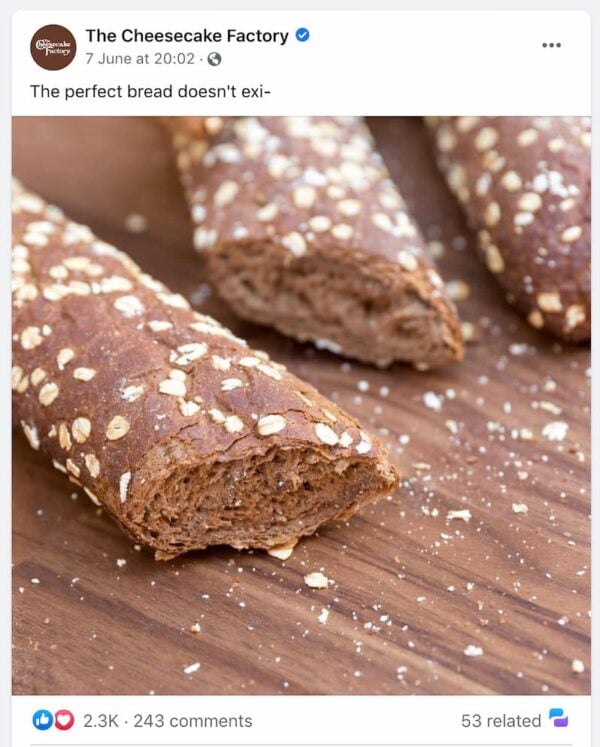 A picture of bread that gets more than 2300 likes and 243 comments, pretty impressive right? Of course, it helps that The Cheesecake Factory is a well-known chain of restaurants, with locations around the world. But what this example shows us is that a restaurant can do very well on social media by using nothing more than humor and quality pictures. Which keeps the audience entertained and attracts them to the restaurant by showing what's on the menu.
2. Google: Share interesting customer stories
Google Maps is one of those things that doesn't need much explaining. Most people know what it does, it helps you get from A to B. It can even find you a faster route when there's loads of traffic up ahead. But a few days back, Google shared an interesting customer story on Twitter. Apparently, marine biologist Johnny Gaskell and a team of researchers, use Google Maps to explore ocean life. You know, way down there. Something that would have taken a lot more time if they haven't had access to Maps. Quite a unique customer story and a cool way to look at a service that has become so normal in our day-to-day life.
What this Tweet shows us, is that user stories bring a product or service to life. It doesn't have to be the most unique story in the world. If you show customers using your product or service and tell their story, others will be able relate to them. This doesn't just give them insight into what your product or service can do for them, it also works as social proof. Because if other people are using it, and they're happy about it, then people are more inclined to start using it too.
3. Tony's Chocolonely: Show people what's happening
Tony Chocolonely is a Dutch company that sells chocolate. Their chocolate bars are quite popular and their mission is to make chocolate 100% slave-free. As they are opinionated, which fits their mission, they often get a lot of engagement on their social posts. A year ago they opened a Chocolate Bar in Amsterdam and announced this news on LinkedIn: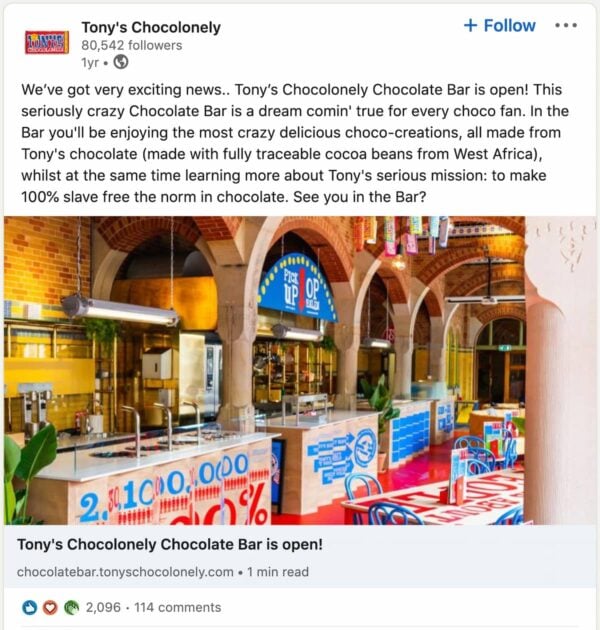 As you can see this post has a lot of likes and comments. And what works well is that they have a photo of the Chocolate Bar accompanying their announcement. This shows people what they can expect and what the 'store' looks like. This is a great example of something you can easily do for your business. Share fun photos of what your place looks like, share photos of new products that just came in, or share any other visual updates to get people excited about visiting you.
4. The Clay Creative Co: Increase followers with giveaways
Now, this is an online store you've probably not heard of, as it's a small business from the UK that sells its earrings through Etsy. But this post on Instagram is a great example of how a small online business can grow its number of followers. By doing a simple giveaway! This online store (and Instagram account) is run by one person, who also makes these earrings herself. And to celebrate that her account now has 1000 followers she decided to do another giveaway. Mind you, this may be a smaller business, but her Instagram account is only four months old and she already had 500 followers after the first month.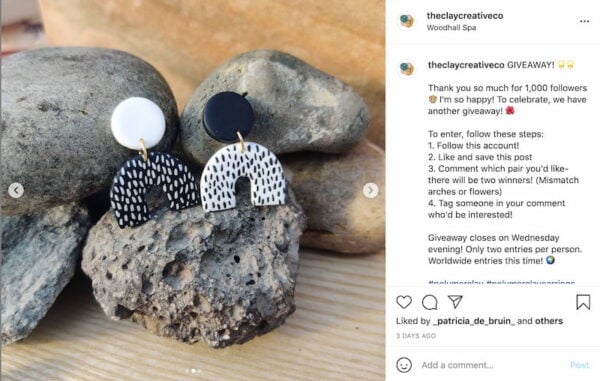 If you've ever been active on social media, chances are that you've seen one or more of these posts before. They're a great way to get people to share your content, commenting on it and introducing your business to their friends. You can even ask your audience to comment with why they believe they should win or why they love your product so much. Giving you valuable input into how your product is being used and perceived by your audience. Do make sure to check out the rules when it comes to these giveaways contests, as you want to make sure you're doing it properly.
5. Social Media Examiner: Share your expertise
Social Media Examiner is a media company that's based in the United States. It publishes online magazines, blogs and podcasts about how business people can use social networks. They share interesting news on their Twitter account on a regular basis and have more than 500,000 followers there. The reason that they have so much content to share is that there's a large community of experts that creates content for Social Media Examiner. Like this blog on social media marketing strategy that they shared a while back.
SHARE THE LOVE
75. Share Gratitude
76. Fan Photo
77. Cause You Support
78. Interview a Customer
79. Interview an Expert
80. Allow a Takeover
81. @Mention a Follower
82. @Mention an Influencer
83. Thank Your Followers
84. New Content
85. Repurpose Old Content
86. Share Popular Content
87. Free Download or Resource
List building is so important so share a worksheet, checklist, cheat sheet or other printable your audience can download for free from your website in exchange for their email address.
88. New Product or Service
89. Popular Product or Service
90. Share a Testimonial / Case Study
91. Promote Your Newsletter
92. Promote Your Other Social Profiles
93. Run a Contest / Giveaway
94. Promote a Sale
95. Follower-Only Flash Sale
96. Promote a Launch
97. Competitive Advantage
98. Celebrate a Milestone
99. Feature Your Team
100. Reintroduce Yourself
FREE CHEAT SHEET: 100 POST IDEAS
Thank you!
Sources:
https://nealschaffer.com/7-tips-and-tools-to-create-perfect-social-media-posts/
https://yoast.com/examples-of-social-media-posts/
https://www.angiegensler.com/what-to-post-on-social-media/