What Makes a Great Product Page?
When you can effectively communicate your offering in a way that buying feels natural, you can win big. It is when your product pages are boring or difficult to use that you'll struggle to convert browsers into customers.
But to give you ideas and inspiration on things that you can try out yourself, here are 14 of our favorite product page designs that we hope will leave you wanting to make changes to your own store's templates right away.
1. Apple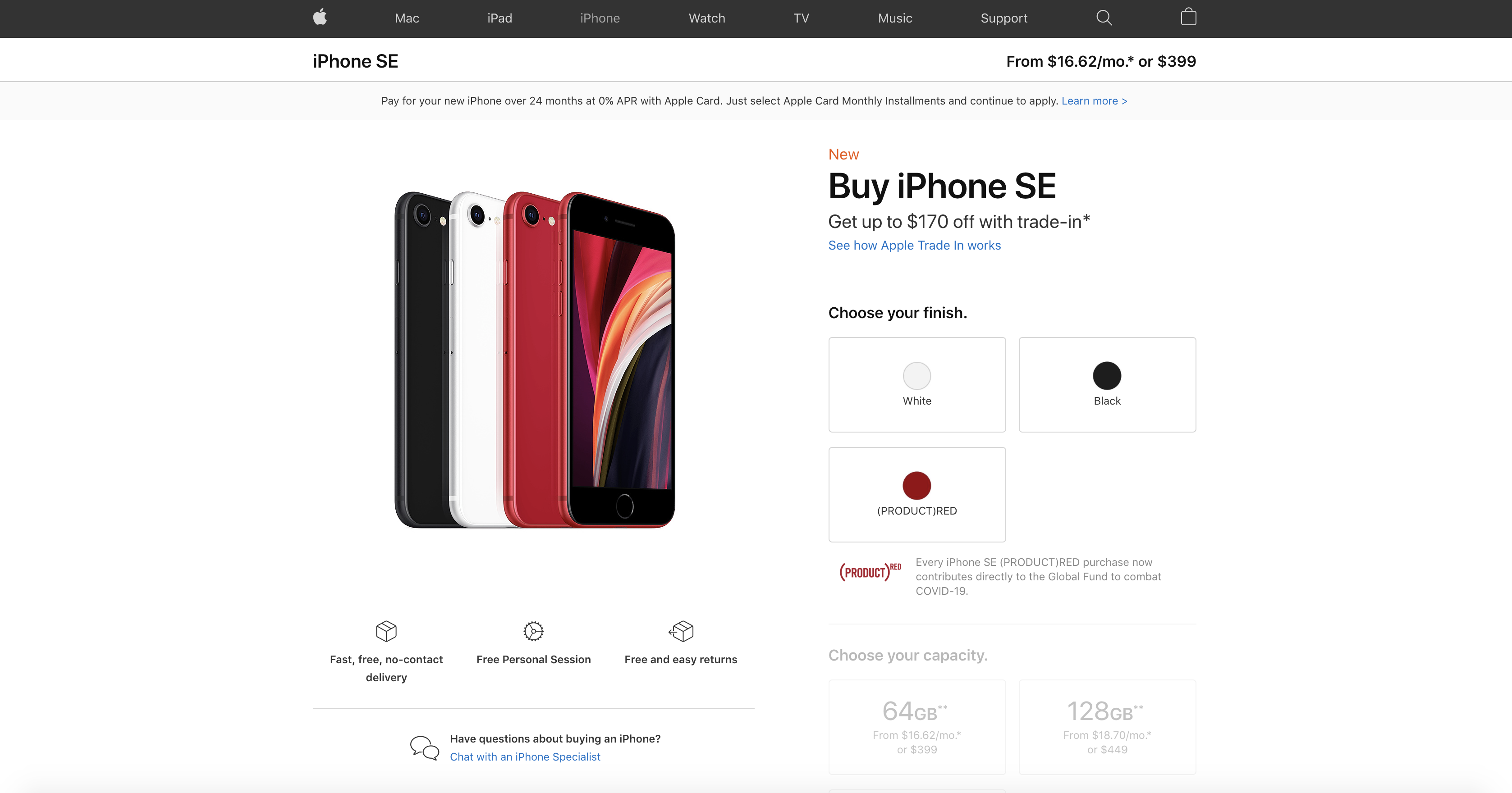 Apple is all about customer experience, and their online store is no different. Their product pages combine a simple yet highly effective layout with the vital information that you need to make a purchase.
Despite being available in multiple different configurations of size and color, the tech giant has chosen a single page that heavily focuses on the finish and capacity. Another thing that we love is Apple's focus on using the attention that people give the page to call out a trade-in offer.
2. Gymshark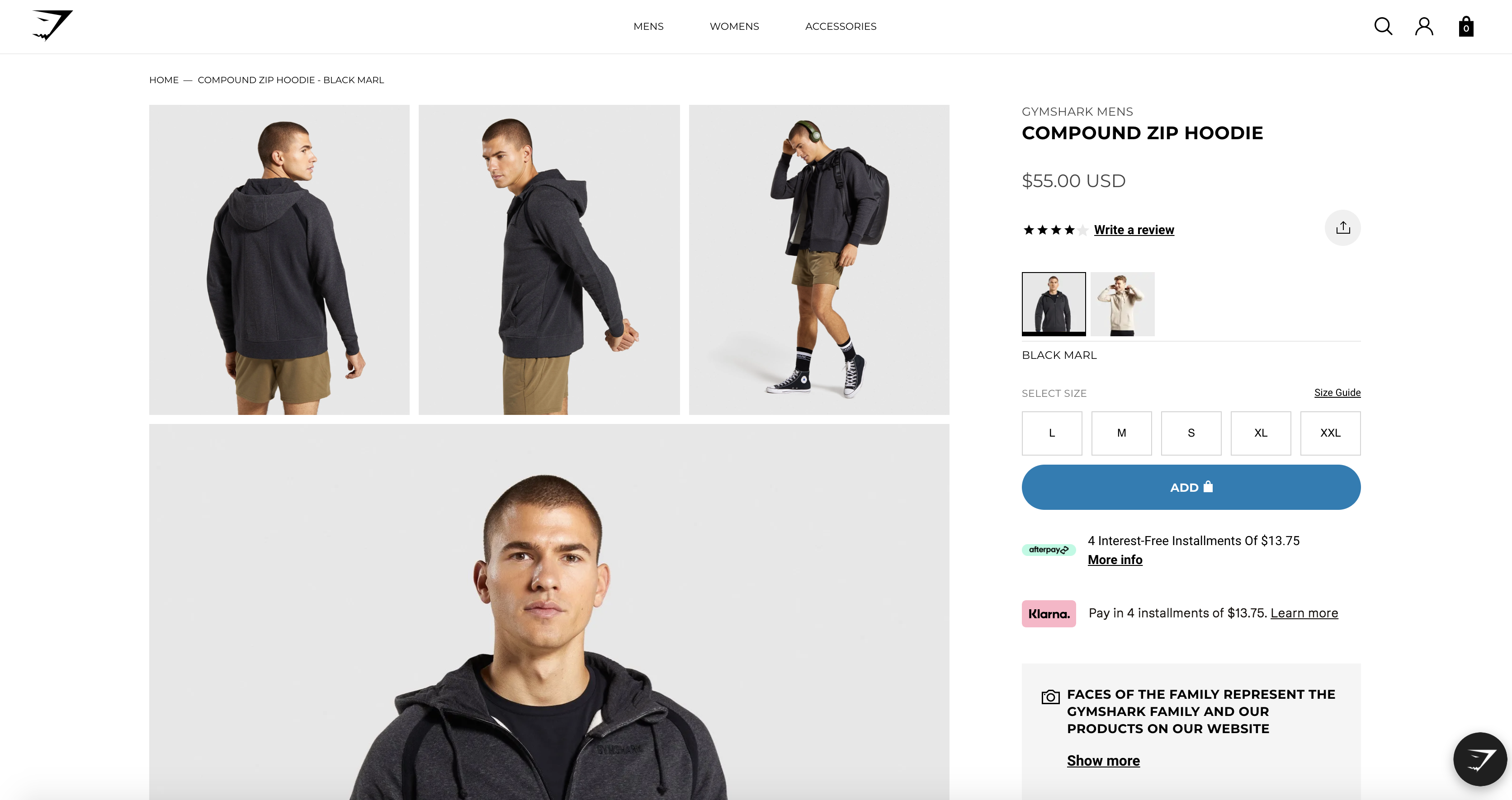 If you choose to buy online, you cannot try on items and style them on yourself. This means there's an inherent need to rely upon fantastic imagery to help you to visualize a product on yourself.
Precise sizing, color variants, and payment options are all essential when selling clothing online. Gymshark does a fantastic job presenting an engaging product page that is led by the right balance of images that do the product justice and serve a purpose.
3. Leesa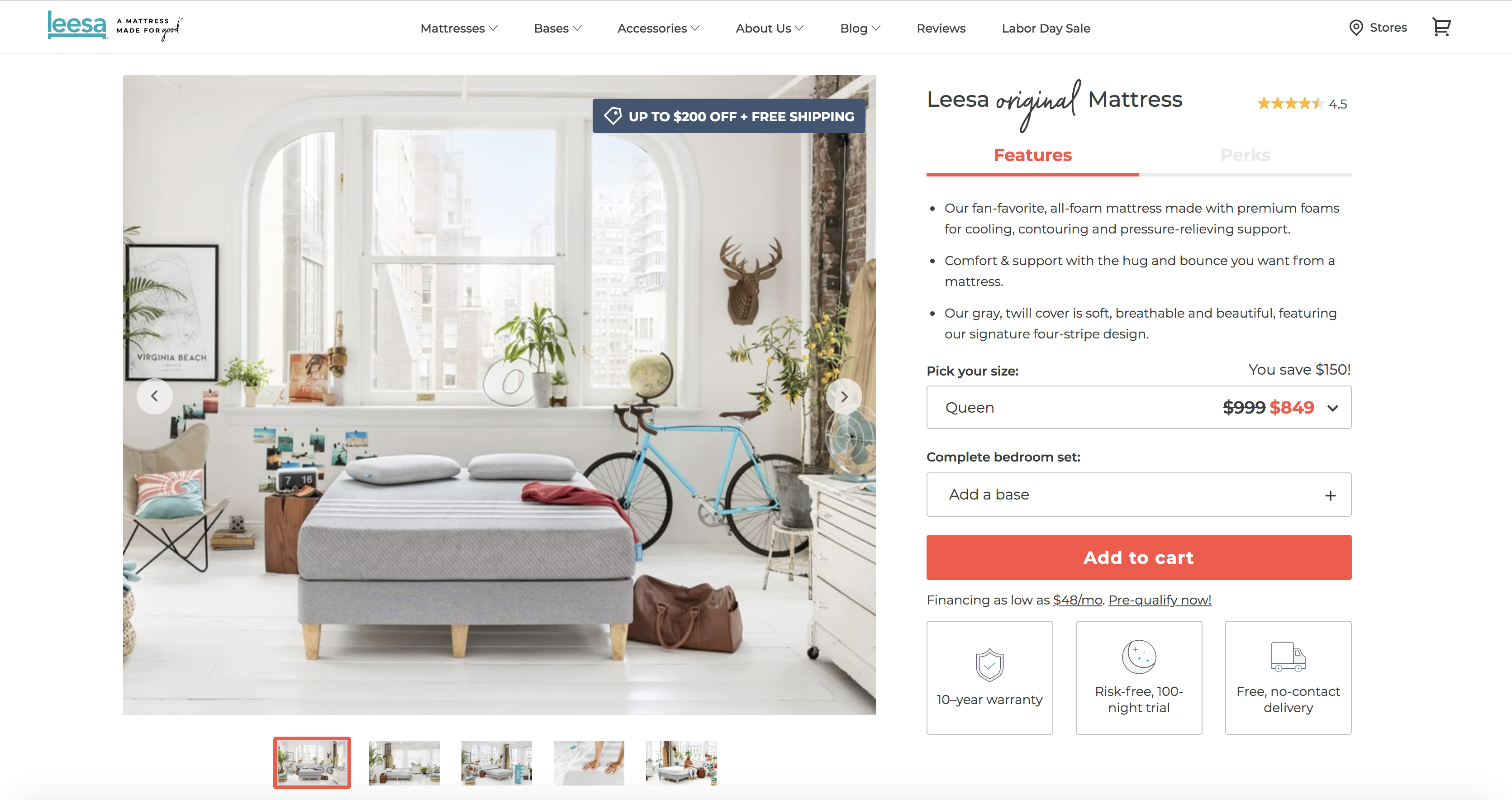 But the perfect example of a brand that has nailed its product page in this space is Leesa. Their online store perfectly portrays features, perks, and photos (in a lifestyle setting, something that is so important for helping you to picture the final look and style) with sizing options, unique selling points, and even an obvious highlight on available discounts.
4. Anova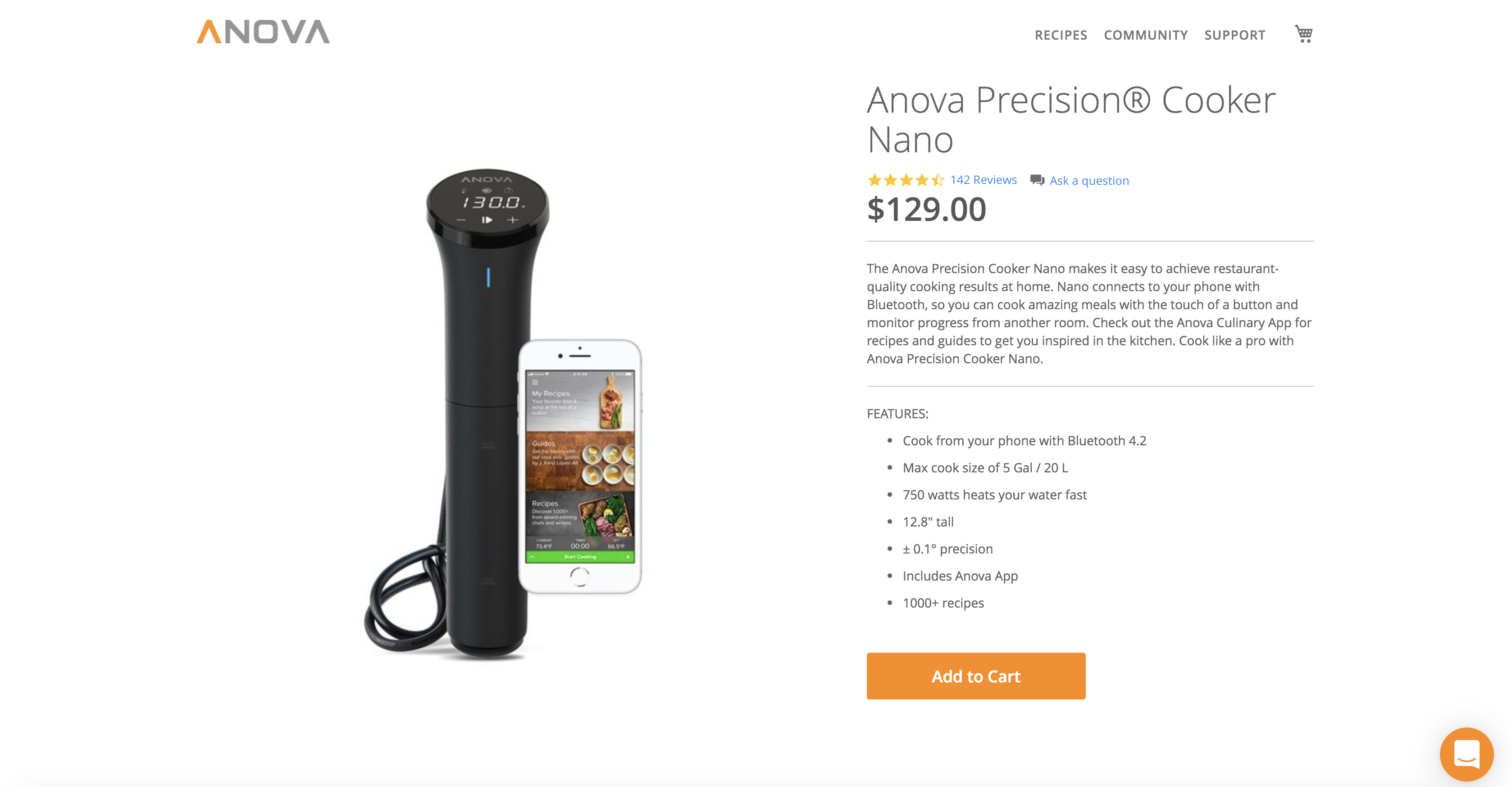 These product pages aren't over the top, nor are they massively exciting, but they very clearly explain the product. If you are buying one of these devices, you know what you are buying. You have already done your research.
So the product pages need to serve one primary purpose, and that is to take a visitor and encourage them to add the product to their basket. The clear standout elements here are an impactful product image, and the 'add to cart' CTA, and the price, which is conveniently situated right alongside a review rating.
5. MVMT
There is a clear focus on the product itself, just as you would expect. But, interestingly, far less of an emphasis on the price. It is evident that these guys are selling by creating a desire for the product itself, and when you can portray this to your audience, the price becomes a secondary consideration.
6. Boohoo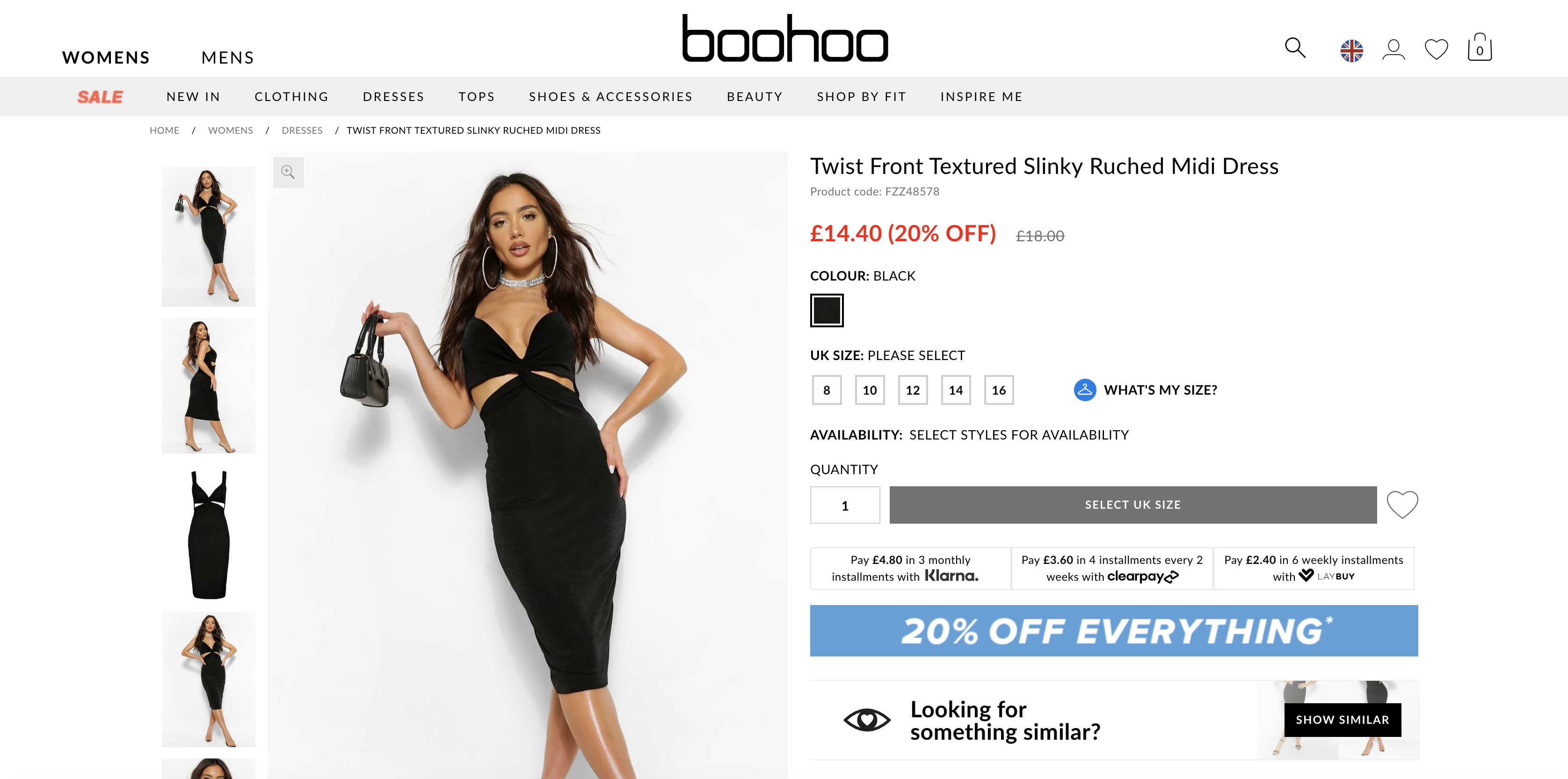 Boohoo's customers want discounts, so they emphasize this alongside a great selection of photos that show as much detail as possible, clear payment plan options, and the actual price you will pay.
7. Kombu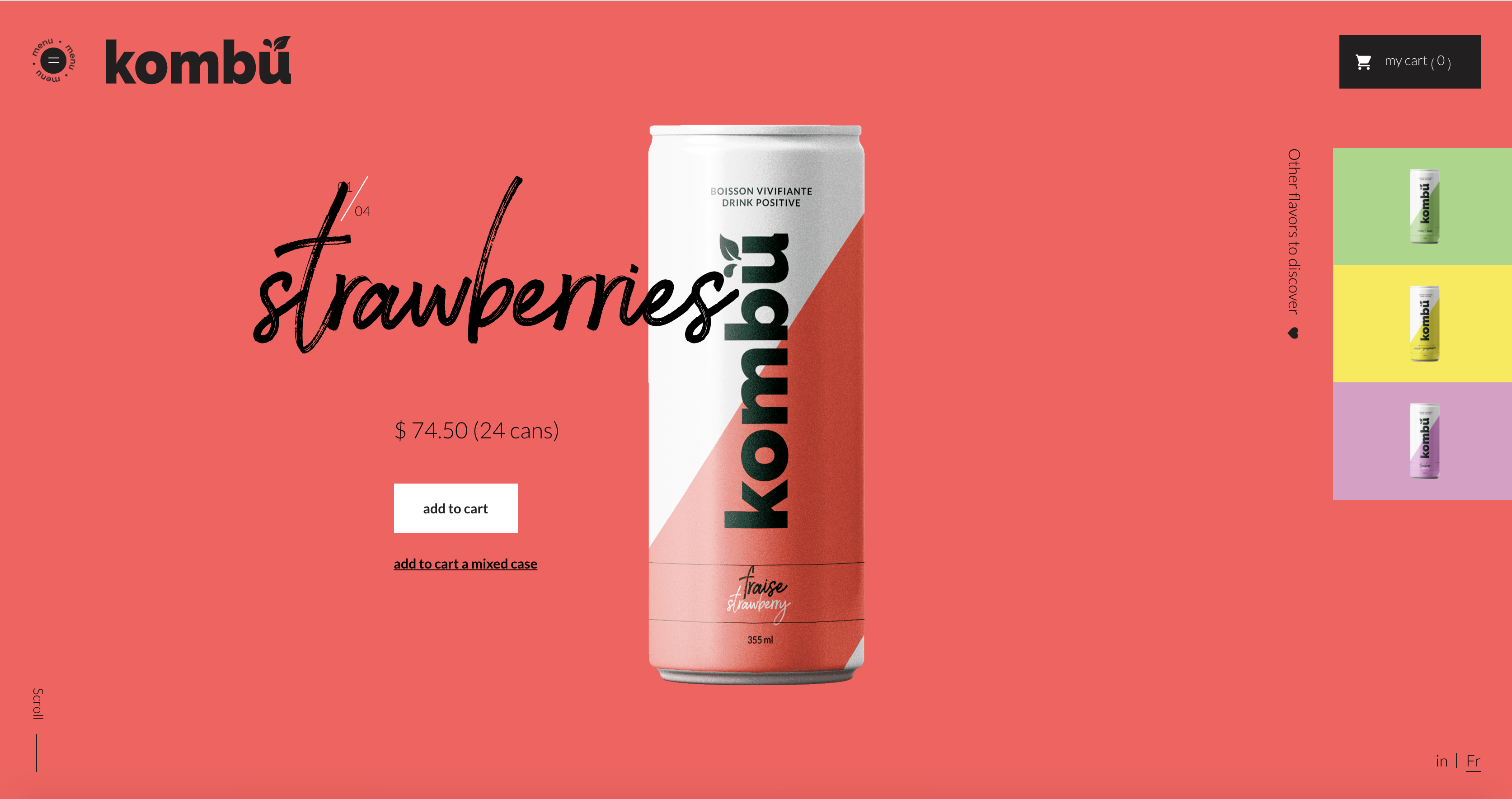 Every pixel has been well thought out to create a simple yet bold design that demands attention. It is not your standard product page, but it certainly makes the cut as an inspiring design.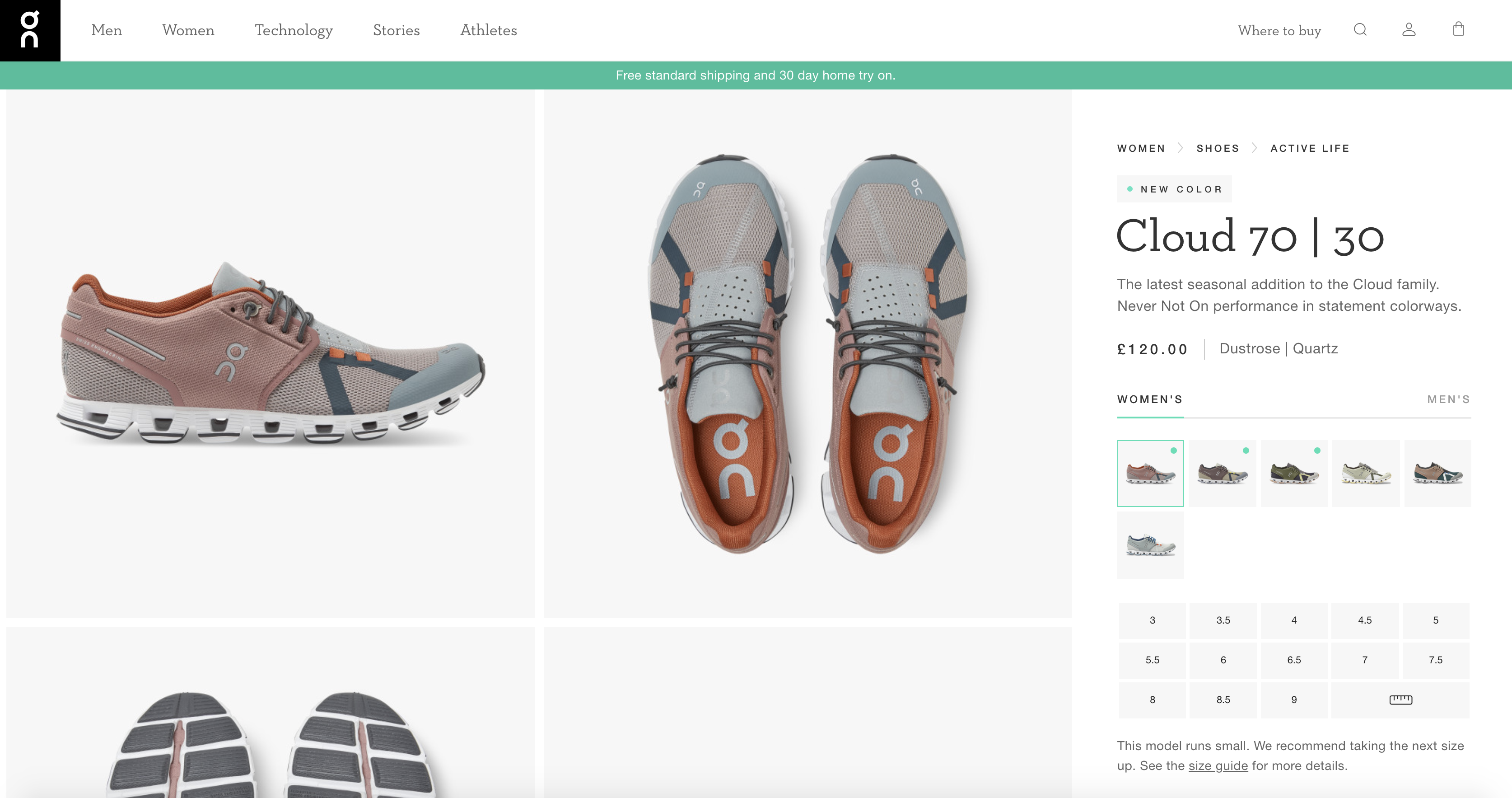 When you are selling products that offer lots of customizations, you need to think carefully about how you present this to your customers without sacrificing a focus on the product itself.
However, the little extra detail which probably works far harder than you might think, is the line under the size selector that says, "This model runs small: We recommend taking the next size up." It's simple, but it builds trust and presents the consumer with important information before continuing through their purchasing journey.
OUTLINES
It takes time, and resources. Sales are the best, but product page visits are worth a cheer too. They indicate someone is on their way to becoming your customers, and you're in the right direction.
1. Do Your Homework: Planning First
Plan your eCommerce product page design first by mapping out all elements you're going to put on your product page. Each element should serve a purpose, provide a specific piece of needed information, and play a role in moving the page's visitors deeper into the buyer's journey.
2. Prepare Beautifully Crisp Product Images
In the age of scrolling rapidly, captivating product images will anchor your visitor down and keep them a little bit longer on your site. Great product photography also builds the buyer's trust that you need in ecommerce, especially since the buyer can't see the product in person, product images speak for your brand.
3. Add Eye-catching Call-to-Action
Content: Add to Cart, Buy Now, Get It Now. You decide, but keep in mind that it has to be recognizable and should compel visitors to act. Imagine a CTA button reads "Pay Me Money and Get It Now"
Color: Different colors have different meanings, hence trigger different emotions from visitors. Get the color done right in 02 steps 1) Consider if the color you choose convey the mood and trigger the emotion you're hoping for. 2) Consider if it abides by your color palette of the page, and if it stands out enough to earn customers' attention.
Wording: Classic case of "You say tomato, I say tomato". Keep in mind that different dialects can result in different perceptions of the same word. For example, see how Amazon changes the CTA text on its US and UK websites to adhere to the local flavor.
4. Provide Easy Navigation Between Product Page
Use breadcrumb navigation to let your visitors know where they are. By having proper breadcrumb navigation, you help visitors have a better understanding of product hierarchy as well as avoid broken user experience by allowing your visitors to navigate easily to other areas of interest – which eventually increase time on site and reduce bounce rates.
Breadcrumb navigation is often neglected by most eCommerce business owners when in reality, breadcrumb navigation is an important element of product findability – the key to any eCommerce business. Your customers can't buy your product if they can't find it.
Build Custom Product Pages That Convert
5. Make Use Of Compelling Videos
Always keep in mind that since your customers can't touch, feel or smell your products, you have to bank on excellent media to earn your customer trust. We already talked about images, now we talk about videos.
In a recent study, Stacks and Stacks found that visitors who saw videos on its product pages are 144% more likely to purchase the products. For all data-driven eCommerce owners, it is an interesting statistic why videos can not be forgotten by eCommerce stores that want to keep going strong in a competitive eCommerce landscape.
5.1. Unboxing video
Unboxing videos are a crowd-pleasing video type and quickly climbing the charts: In 2014, unboxing videos already had more than 10.3 billion views! Unboxing videos work because it allows customers to know exactly what they'll get, and know the brand they are buying from way better.
5.2. Product Tour videos.
When your products have a lot of details, have high-value and require higher persuasion power to get visitors to add the products to cart, you need product tour videos. This type of video shows and explains your products in great details – hence, keep your prospective visitors on-site longer, increasing the chance of conversion.
5.3. How-to videos.
How-to Videos adopt a time-honored practice of story-telling: Show, don't tell. A how-to video shows customers how effective your product can be, which eases almost any concern about the product's usability and makes customers' lives much easier – all that is left is buying.
5.4. Product-line videos.
Product-line videos give customers a sneak-peek into how your products are created, assembled, packaged for shipping. Product-lined videos can easily triumph over other types of videos in terms of showing the quality of your workmanship, labor, and material – which make it easier for customers to feel connected to your brands and find the pricing reasonable.
To discover more than 4 types of videos and best practices to help you jazz your customers with product videos, we highly recommend you to check out this in-depth article on Ecommerce Product Videos from Coredna:
6. Write Attractive Product Descriptions
Product Descriptions wear many hats: They communicate your product value, get people excited and make them switch from visitors to customers in the blink of an eye. Product descriptions also make your product page content-rich so that the page can rank well under search engine eyes. Those are the ways product descriptions can benefit you, if done right.
6.1. Speak to your target customer
Walk into your target audience's minds and reflect key qualities of their persona on your product descriptions: Which information they deemed the most important, which voice will match their tone – whimsical or serious. Writing with an audience in mind will result in compelling product copy that makes your customers feel related and understood, hence, having more reasons to buy your product.
6.2. Distinguish feature and benefits
Features are essential facts about your products – which can easily sound like jargon to a lot of regular shoppers, while benefits are all about HOW your products can be the painkillers for audience' pain points, how its feature can be of use, and WHY they should buy it to ease their pain.
6.3. Choose your words wisely
Avoid excessive jargon that customers may not understand because if they don't understand what your products are about, they're not going to buy it. Your product description should speak the regular shoppers' language, with words, phrases and concepts familiar to them.
6.4. Check your readability.
7. Create Urgency and Play With FOMO
8. Upsell and Cross-Sell: Don't You Forget
That saying helps you understand the fundamental benefit of cross/up-sell – if done right. They help shoppers find more value than they're expecting, which as a result, increases your Average Order Value and Life-time Value.
Cross-sell and Upsell are pretty much everywhere these days, so the tools to set up cross-sell and up-sell are a dime a dozen. Here at PageFly, we highly recommend: Shopify Also Bought – A powerful cross-sell and up-sell app that does most of the heavy work for you.
Conclusion
Related Posts
The 25 Best Dropshipping Niche Ideas for Your Store in 2022
My €300 Dropshipping Experience (A New Beginning – Part 3)
10 Great Ecommerce Brand Store Examples (2022) | Inspiration
The 8 Best Email Marketing Services for Ecommerce in 2022
Write A Comment Cancel Reply
About Do Dropshipping
Legal Information
Do Dropshipping is supported by our participation in affiliate programs.
We participate in programs from Shopify, CJ, Bluehost, Clickbank, and other sites.
Do Dropshipping is compensated for referring traffic and business to these companies.
Sources:
https://www.semrush.com/blog/product-page/
https://pagefly.io/blogs/shopify/ecommerce-product-page-design-best-practices
https://dodropshipping.com/product-page-examples/